​JOIN THE MOVEMENT
​Building Health Tea CommuniTEAS with Every Sip
TAK tea is proud to support various grass roots community organizations in building health and sustainability.
Our Accountable Giving Program provides a sustainable investment into underprivileged communities to assist in basic needs, education and sustainable micro business development. Our goal is to provide children a sustainable source of food and education while at the same time injecting an investment for that community to create a micro business that has the capacity to earn income to maintain the needs of their community.


TAk tea will allocate 5% of profits from the sale of each product to a specific tea-empowerment Campaign and fundraise simultaneously to kickstart the community development program.

We invite all our supporters to participate, volunteer, and Join the Movement. Contact us at info@taktea.com for more details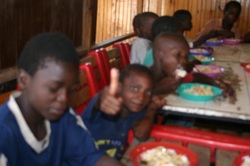 Community Kitchen Campaign

The CommuniTEA Kitchen is a sustainable development program inspired by the Street Children of Mwanza, Tanzania. Unfortunately, homelessness and Isolation surround the young children who are born into generational poverty. A lack of funds and resources can lead families to neglect the care of their children, or in other circumstances poor health, HIV, separation between parents and re-marriage can leave the most vulnerable in society desperate and alone, and fending for themselves. The youth commonly migrate toward main cities to look for opportunities and for survival. There is a massive global problem of street children around the world and large funded charitable programs do not have the means of identifing this group or in some cases these children are mearly overlooked.
As part of our Child Advocacy and Child Rights awareness, TAK tea intends to build and supply this community in Mwanza, with a structure and a Kitchen to house and feed and educate this neglected child population. Because our First Priority to provide basic needs. We plan to partner with a local grass roots program whose mission and vision are in line with our own, and empower that organization to help build The Community Kitchen.

The Location of The Community Kitchen will be in Mwanza, Tanzania

The Purpose for The Community Kitchen will be to feed the Street Children Population with a balanced meal everyday as well as to serve affordable meals to the Community, for profit and sustainability.

The Community Kitchen will also have in place a land that will be cultivated with fruits and vegetables to help balance the sustainability of The Community Kitchen.

Our Campaign will dispatch into Action when we have reached the dedicated $8000 in our tea-empowerment community fund. Please Visit our Site Often for updates and support tea-empowerment by purchasing the products that come from our development projects. We are currently fundraising Various Art from community development projects and each purchase significantly helps the children and communities we are involved with. The Galleries of Art and decription of each project are available to view below simply click TAKE ACTION to purchase a one-of-a-kind art piece to empower the project.

TAK tea would like to thank all of their supporters for their generosity and for their continued support.
Live with a larger purpose

Click on TAKE ACTION to view and Support the Campaign.



---