Tea History
Quince is an ancient remedy known for its healing properties.The Origin of Quince can be dated back to the biblical times of Adam and Eve.It is referenced as the Golden apple in the garden of Eden.

The medicinal qualities of quince have been appreciated to be true since ancient times. Shakespeare once wrote that quince was the "ultimate stomach's comforter." Quince is most Commonly used for stomach discomfort, cough, and to increase blood and oxygen circulation. Its used in Middle East as an anti-stroke remedy and to help calm the nervous system. The seeds of Quince are also harvested and are used to combat pneumonia.

Quince is known to contain minerals such as potassium, potash and phosphorus, and is high in Vitamins C and B2.

TAK tea is proud to deliver this ancient remedy to you. We offer a truely unique Persian Experience that incorporates the generational history of traditions, customs and natural health.

The ritual of drinking tea brings a stop to time so let your senses be seduced as they come to a full attention. Enjoy the hospitality,smell the aroma, see the richness, and taste the sweet and natural flavour as you relax your body and mind with each healing sip.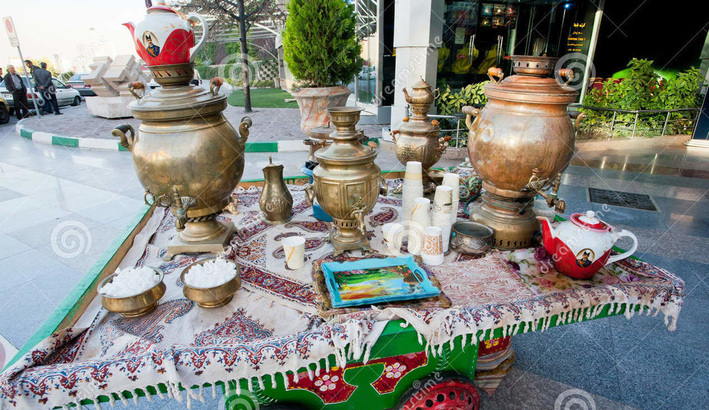 ​Tea Culture and Traditions
​The Delicate Customs of the Persian people begin with hospitality. From all Corners of present day Iran, when you arrive, you are welcome. You are waited on as if the King and Queen themselves have been invited for tea. Once you are seated, the service begins as all the women in the household bring tray after tray of ripened seasonal fruit, fresh cracked nuts, colorful pastries and sweets, and of course tea. Tea is served throught the day in Iran and each tea is a ritual.There is always dried fruits and confectionary, cakes and small bites and a tremendous amount of laughter and conversation. You may even drink as many as 5 cups in one sitting as it is a custom to keep the plates and glasses full until your guests depart. One can only imagine that being invited for a cup of tea can be a 5 hour ordeal, complete with meal and dessert.


The size of tea cups is relatively small when being compared to the Canadian standard and tea is rarely served in plastic and paper cups. Even when tea is given away to the public on religious occasions alongside with food, it is most always celebrated with small glass mugs, perfect for a moment enjoyed with family and friends in the company of thousands gathered at the tables.


Sugar is never stirred into the tea, rather tea accompaniments are given on the side. The sweets, made of sugars, honey's, nuts and dried fruits are first placed in your mouth followed by the tea sip. the warmth of the tea melts the sweet for a delightful tea experience.
How to make the Perfect Cup of Persian Beh tea